---
C Fairy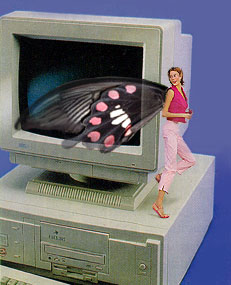 For several days I had been suspecting their influence. My code had been developing bugs overnight and seemingly as if by magic. Finally, shortly after dawn one morning, I caught one of these in the act of compiling. She flitted away of course, before I could see which module had been touched. The burning question is, do fairies use C or C++?



Wings from an original photo courtesy Philip Greenspun. His collection of butterflies is particularly nice.
Lady and computer scanned from various magazines.
---
Back to the Mythical Creatures